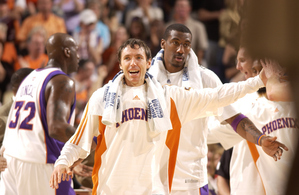 I think our defense has been excellent during this winning streak. How the hell do we let the other team shoot the ball
29
more times then we do and still win? That is just plain ridiculous. If it is not for the turnovers this is a blowout. The turnover numbers HAVE to come down and they will with time. I think when we get up a bunch we start to push it a little and then end up with a bunch of turnovers. But the fact that they took more shots and still couldnt convert does speak to our defense. Just need to fix our turnovers...dammit.
We have been keeping opposing teams under
45%
shooting pretty much every game. Sometimes it is even closer to 40% then 45%. This is even with the obligatory fast break easy dunk for Amare's man! We are a top 10 defensive team in the league and that is amazing. People still wont see it though because they go by the final score like that determines defense. Lame.
RE: Giricek. He is better than I thought on D and he's very physical I've noticed. Uses his body and strength well and doesnt give up an inch. One thing he does is stay in front of his guy and make him work for the shot, instead of trying to go for the steal (LB, Banks RIPS) and getting hung out to dry. I also love his attitude as it seems like hes genuinely happy to be here and have a fresh start.
This upcoming road trip is big. We can win them all and I hope we don't have any let downs and LA continue to lose. And Atlanta too.
Go Suns!!!