Kurt Thomas traded to Seattle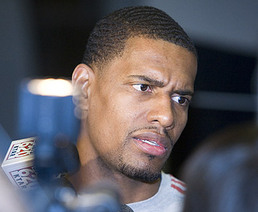 http://www.azcentral.com/sports/suns/articles/0720kurttraded-CR.html
It's really not that suprising a move tho...
We've been told numerous times that $arver is trying to cut about $8 million payroll (even after the James Jones trade), it's been written on the wall for a while. This deal did just that. KT's salary was nowhere near being in line with the role he played on the team - if he made $3-$4 million rather than $8 million that might be a different story. $8 million to sit on the bench as our 7th/8th man just wasn't being cost effective (KT played only 18mpg and had like about 20 DNP's). Unless they we're planning on using him, it was just a player not being utilized correctly. Just like, well, Marcus Banks. Personally, I liked the Suns the way they played, especially on the defensive end, when KT was in the game. I guess coach didn't and he knows more about hoops than I ever will. I'd rather they take that money and bring in somebody they're going to play a bit more.
BUT!!!!
2 FUCKING FIRST ROUNDERS????

REALLY????

I think I am going to be sick. Googs, and Now KT? No one ever learns. Three fucking 1st rounders to get rid of two rotation players and we are going to use fucking Marks as our backup C? I mean, all is good. Right? We resigned Sean Marks. The paint is fixed. It is all GOOOOODDDD! Sean Mark the Suns Savior Is in the House! We are fine, We own the Spurs with Marks guarding the paint. OMG.

You gotta love the tactic of remind us that we signed Grant Hill. As if the Suns shelled out the big bucks to get him or something. Remind us of who's on our roster as if we didn't already know. Yeah, we got Amare, Shawn, Nash, and LB, we also got Pike, Marks and Banks too.

I can't believe there's still people here defending this move.

ARE YOU KIDDING ME??????? 2 1ST ROUNDERS FOR KT IS INEXCUSABLE! SOME PEOPLE ACT LIKE KT IS SOME GARBAGE STIFF OR SOMETHING. MY GOD.

Tim Duncan will love this trade. We just got 'softer' on defense...
No Petro, 2 1st rounders, and they don't take Banks. Thank you Mr. Kerr. I'm sorry, not buying the 'wait and see' thing. We just cut $8 million off the payroll using 2 1st round draft picks, you think they're going to add on more salary????? I expect nothing more than some minimum contracts. I just don't have any reason to 'wait and see'

Again, people have been talking about KT being a salary dump all offseason long, and a couple of us even talked about him going to Seattle right after draft night for a TE. So there should be no surprises here that KT is gone. It's the inclusion of the 2010 pick that is absolutely ridiculous. There are actually 16 million reason why KT got salary-dumped, but none of them explain why we had to throw in 2 1st round picks. That was just HORRIBLE. We don't know what shape Nash will be in. Sure we already have a number of players that are developing now (Amare, LB, Boris, Alando), but this is so freaking short-sighted. We are ditching draft picks like they're nothing. I expect the '08 Suns 1st to be sold for cash so not a big loss if we do include that pick but I'm not happy with giving up the 2010 1st rounder like this!

And why the crap is the 2nd rounder the Suns receive conditional? REALLY??? How the Suns don't walk away from that deal with the Sonics own 2nd rounder (instead of Orlando's) is beyond me. And its conditional? A 2nd rounder? CONDITIONAL? I'm so sick of the Suns getting raped in trades. It started with the 2005 Tom Gugliotta trade and hasn't stopped. I think they panicked and got raped. Other owners smelled desperation, and we got nailed.
Kerr, this trade SUCKS!